3 Best Manifestation Courses To Live A Dream Life
Hey there! Some links on this page may be affiliate links which means that, if you choose to make a purchase, we may earn a small commission at no extra cost to you. we greatly appreciate your support!
If you've been asking yourself "how can I study the law of attraction?" then this post is for you. Manifestation courses are a great way for beginners to learn about the law of attraction for personal development.
I've taken a lot of courses over the years, and when people ask me why, I tell them that although you can find tons of free resources online, completing a course will give you a step-by-step process to help you reach your goals faster.
For many people, starting the manifestation process can be overwhelming. While the aim of this website is to make manifestation accessible to everyone, we recognize that everyone has different learning styles.
If you prefer access to audio tracks, video lessons, and an instant manifestation program to aid your internal and external transformation, take a look at the courses on this page.
These top 3 manifestation courses will help you to achieve success, whether you want to manifest abundance with straightforward practical exercises or start manifesting money by tapping into your spiritual side.
Here are the best manifestation programs to start living your dream life.
Best Manifestation Courses of 2022
Manifestation Miracle Program
The Manifestation Miracle program really does help to bring your intentions into your own reality. Throughout this course, manifestation coach, Heather Mathews, teaches you how to break your negative thought patterns and limiting beliefs to attract unlimited abundance.
Other topics that are covered include destiny tuning – one of the most powerful psychological manifestation techniques for tuning into the journey of a fulfilling life. With this manifestation power, you'll be able to align your goals with your subconscious mind, and manifest positive thoughts with ease.
Heather's practical techniques make it one of the best manifestation courses for personal development. I've used her processes to clear my own abundance blocks, and get a clear insight into my inner self.
As someone who used to struggle with how others perceived me, I no longer worry about my past beliefs and I am solely focused on manifesting the best life for my future self.
Who is the Manifestation Miracle program best for?
Manifestation Miracle is the perfect manifestation program for those new to the law of attraction.
If you enjoy a combination of audio tracks, video training, and reading, you will adore this manifestation course.
Here's what's inside the program:
The Manifestation Miracle Manual
The Complete Manifestation Miracle Audio Version
The 'Unlimited Success' Mindtracks collection
Over 20 recap video lessons
Bonuses:
Abundance Success Workbook + Audio Tracks
The Love And Happiness Audio Tracks
A book on Health, Vitality and Disease Reversal
A book on How to Reboot Your Metabolism
The Money Mindflood System
Anything else?
This entire course comes with 60-day money back guarantee, so there's zero risk when purchasing. Plus, you receive lifetime access.
If you're new to the law of attraction or are searching for financial abundance, this is the best manifestation course online.
Find out more about the manifestation miracle package here.
Soul Manifestation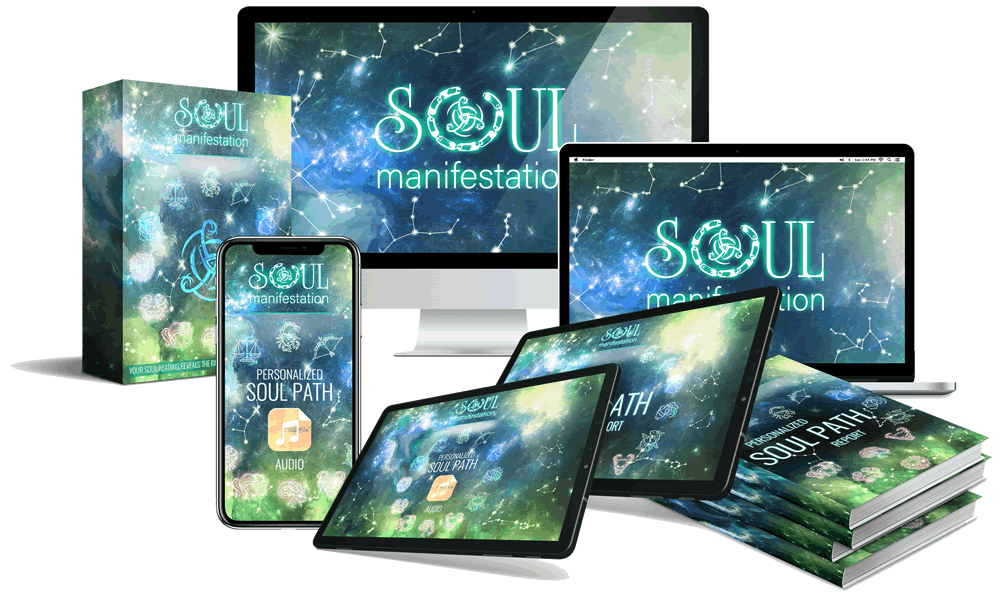 Soul Manifestation is one of the best manifestation courses for discovering your true purpose in life. I took this program with the intention of aligning my manifestation process with my true life path.
However, this law of attraction program is much more than that. It offers learners assistance in uncovering hurdles that are blocking the journey to your dream life. Plus, it will teach you how to attract your soulmate and have a healthy, loving relationship.
This manifestation course starts with a free personalized soul report, delving deeper into where you are currently at in life, and what is holding you back from your life's path. Over the course of 3 weeks, you receive a soul report and spiritual tools that will help you on your 'soul path'.
What most impressed me about this program was how accurate the reading was. The words used described me perfectly, including how I approach life, and what's missing from my current path.
Who is soul manifestation best for?
This is one of the best manifestation courses for discovering the unlimited abundance around you, letting go of limiting beliefs that are holding you back, and discovering practical lessons to live a fulfilling life.
As this manifestation course is only available in digital book form, it may not be suitable for visual learners. However, if you enjoy combining your manifesting process with astrology, this is the program for you.
What's inside the course:
Soul Manifestation Personalized Soul Path Report
Components of the report include your personality soul code, vibrant health soul code, love and romance soul code, material abundance soul code.
Bonuses:
An insight into geniuses that share your soul path
The History of Astrology
The Validity of Astrology
Neuroscientific Frequency Technology
The Healing Power of Music
Anything else?
This instant manifestation program comes with 365-day money back guarantee. This means you can try the soul report and bonus information for up to one year and still claim your money back if you're not satisfied with the material.
Find out more about this law of attraction online course here.

Miracle Money Magnet
You may assume that to attract unlimited abundance in the form of money, you need to be actively thinking about money all of the time.
Well, here's the thing about the subconscious mind – it can work against you.
The thing with money is that we're consciously taught about its importance. Of course, everyone needs money to fuel their day-to-day life. You need money to eat, drink, and sleep in a warm bed at night.
The problem with this is that most of us form an attachment to money. By thinking about needing money to live, we become desperate to have it in our lives. So, when we want to attract wealth, we often end up with abundance blocks.
Miracle Money Magnet is one of the most powerful manifestation courses for helping with this issue. This program teaches you the concept of emotional energy and how high vibrational frequencies are essential for law of attraction mastery.
In other words, when you start having the same mindset as wealthy people, your subconscious mind will be able to fight any abundance blocks that are in your way.
What I like about this course is the step-by-step process for getting into the very best mindset for attracting money.
Who is miracle money magnet best for?
As one of the best law of attraction courses on money mindset, anyone who desires financial freedom should take this program.
If your subconscious mind is struggling to align with your life goals, you will definitely benefit from the audio tracks in this manifestation program.
What's inside the course:
Five audio tracks, including how to feel worthy of wealth, words that repel and attract money, how to stop your subconscious mind from thinking negative beliefs, and money vibration reset.
Bonuses:
Anything else?
This manifestation program is only $7 and it comes with a 60-day money back guarantee. Look beyond the video on the homepage as it does have a slightly scammy feel to it. This course does help to raise your vibrations to achieve unlimited abundance, and for the affordable price, I found it was worth the small investment.
Find out more about this manifestation program here.
Recap:
If you're searching for a manifestation program to elevate your manifesting powers, then the courses on this page can help.
Whether you're looking to achieve unlimited abundance or help to achieve one of your desires, the dream life advanced manifesting tips are effective to have in your law of attraction toolbox.
Do you prefer to read books? Check out the best manifestation books here.